Greeting
Welcome Message
Takanori Teshima, M.D., Ph.D.
(Department of Hematology, Hokkaido University)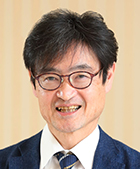 Dear Colleagues and Friends,
It is our great pleasure to invite you to the 85th annual meeting of the Japanese Society of Hematology (JSH) to be held in Tokyo. JSH is one of the oldest medical societies in the field of hematology in the world since its establishment in 1937 and its first meeting in 1938.
JSH 2023 will offer a wide range of academic programs on state-of-art topics with national and international scholars. Social events will be returning since 2019 in the evenings for unforgettable memories with colleagues and friends from all over the world. We look forward to seeing you in person at JSH 2023 in the exciting city of Tokyo.
Sincerely,
Takanori Teshima, MD, PhD, Hokkaido University
President
85th JSH annual meeting