Greeting
Yasushi Miyazaki, MD PhD.
(Professor, Department of Hematology,
Atomic Bomb Disease and Hibakusha Medicine Unit,
Atomic Bomb Disease Institute, Nagasaki University)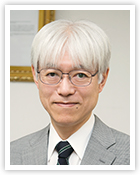 It is a great honor and pleasure for me to chair the 82nd Annual Meeting of the Japanese Society of Hematology (JSH) that will be held at the Kyoto International Conference Center and adjacent Grand Prince Hotel Kyoto over the three-day period from Friday, October 9 to Sunday, October 11, 2020.
 In 2020, Tokyo Olympic and Paralympic will be held in Japan from July to September, and Japan will serve as a host country welcoming many athletes, team members, media personnel, and visitors from all over the world. A lot of attention will be paid to Tokyo Olympic and Paralympic, and Japan, surrounded by glamorous atmosphere and friendship.
 The main theme of this congress will be "Exploring diversity of Hematology." In the field of Hematology, basic science and clinical issues are strongly connected. New technology for medicine is applied soon after invented, and important scientific subjects have been found from patients with hematological diseases, proving the importance of "Bed to Bench, and Bench to Bed." For the future development of the field of Hematology, it is very important to involve diverse researchers in basic and clinical fields. Young doctors, senior doctors, those in basic and clinical fields, working in hospitals, academic institutions, and companies, are all welcome to the congress. Please enjoy the opportunity for encounter with new friends, and also deepening old friendship.
 Nagasaki city, my hometown, has an outstanding history among many Japanese cities. From 17th century, Japanese government ("Shogun") had taken the seclusion policy (closed the door to foreign countries) for more than 200 years, keeping Japan completely isolated from the world. But there was one exception. The Nagasaki Port had been the only place for world trade, mainly for the Netherland, and Nagasaki city also has had a strong relationship with China because of its location: every information or goods from foreign countries had passed this city for more than 200 years. These historic backgrounds featured the present Nagasaki as an outstanding city characterized by a mixture of European, Chinese and Japanese cultures, which is called "和華蘭 (Wa-Ka-Ran, Japanese, Chinese, and Dutch)", reflecting the diversity of Nagasaki.
 The JSH has valued international relationship with other hematology societies, and I would like to further this policy. Warm relationship has been established between JSH and the American Society of Hematology (ASH), the European Hematology Association (EHA), and Asian hematologic societies including Chinese Society of Hematology, The Hematology Society of Taiwan, Thai Society of Hematology, Korean Society of Hematology, Indian Society of Hematology and Blood Transfusion, and Singapore Society of Haematology.
 During the congress, there will be special lectures from presidents of ASH and EHA, Joint symposium with these societies, and Asian Joint Panel Discussion, which clearly demonstrate the importance of these mutual co-operations. Attendance from oversea is very welcome to the congress. JSH-ASH joint symposium will discuss the recent advances in MDS, JSH-EHA joint symposium will be focused on the differentiation of blood cells, and AML/MDS will be the subject for Asian Joint Panel Discussion.
 Educational lectures, which are very important for the activities of the annual meeting, will cover standard diagnosis and treatment for major hematological diseases, and also topics of basic and clinical areas. I would like to prepare some special educational sessions for the interns who have just started their career. These will be for the beginners of hematology or even internal medicine, using case-based, interactive presentation. I want them to feel the interest in hematology through these lectures. We plan to broadcast/replay high-demand educational lectures as done recent congresses.
 In 2012, the 74th JSH annual meeting was held in Kyoto by Professor Keiya Ozawa as the president of the congress. At present, our program committee members and congress secretariats are working together to prepare the meeting as good as that performed by Dr. Ozawa. We will make the congress scientifically meaningful and truly enjoyable for all the participants.
 Kyoto is a city of long-lasting history and authentic Japanese culture. Attendance will enjoy the annual meeting, and also Kyoto itself that is filled with historical monuments, and national treasures. We would like to ask many to attend the 82nd JSH meeting. I am very looking forward to seeing you in Kyoto.