Greeting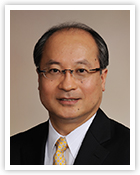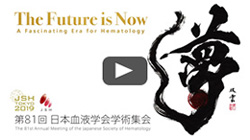 Norio Komatsu, MD, PhD
Congress President
Professor, Department of Hematology Juntendo University
It is a great honor and pleasure to chair the 81st annual meeting of the Japanese Society of Hematology (JSH). The meeting will be held at the Tokyo International Forum on October 11 (Fri), 12 (Sat), and 13 (Sun) of 2019. In Tokyo, Rugby World Cup 2019 will be held at the same time, and the enthronement ceremony of the Japanese Emperor will be carried out about 10 days after the annual meeting. In the following year, the 2020 Olympic and Paralympic Games will be held in Tokyo. Important events are sequentially planned in Tokyo, and the annual meeting takes place when Tokyo is filled with an ambience of high spirits and expectations.
The main theme of the annual meeting is "The Future is Now", which is a famous phrase made by a 20th century American cultural anthropologist of great renown, Margaret Mead. Although a very simple phrase, it carries with it an important underlying message, "The future does not simply come to us, but is the result of what we do today. Every one of us should keep this in mind, and act now in pursuit of one's ideal future, in other words, one's dream". The word "dream" is translated as "夢(yume)" in Japanese, and happens to be my favorite word. The 81st annual meeting poster carries with it this word, "夢", which was written by a famous Japanese calligrapher, Souun Takeda. The red ball in the middle of "夢" in the poster is meant to represent a red blood cell.
We have the fortune of inviting Dr Ohsumi Yoshinori and Dr Malcolm K Brenner for the JSH special lectures. Dr Ohsumi Yoshinori, the 2016 Nobel Prize in Physiology/Medicine awardee, will talk about the dreams he had in youth, and how he made them come true. The lecture will be a precious and stimulating experience, especially for young investigators. Dr Malcolm K Brenner, a world leader in gene and cell therapy, will talk about his dream centering on future directions and potentials of gene and cell therapy.
The subtitle of the annual meeting is "A fascinating era for hematology", and this was entitled in hope that the meeting will be an exciting experience for all participants. As a new event of the annual meeting, an audience-participating pro/con clinical debate section is planned. Two lecturers with adverse opinions concerning a clinical question will debate, and the audience will electronically vote in favor of one of the lecturers before and after the debate. The clinical questions will concern treatment of malignant lymphoma, multiple myeloma, acute myeloid leukemia, myelodysplastic syndrome, chronic myeloid leukemia, and myeloproliferative neoplasms. We look forward to a lively interchange of opinions. Two presidential symposiums will be held, and one will center on a true dream come true, artificial intelligence (AI) and its role in future medicine. The other presidential symposium will concern what I specialize on, future perspectives of myeloproliferative neoplasms.
As part of JSH's effort for internationalization, ASH and EHA presidential lectures, Joint Symposiums with ASH and EHA, and Asian Joint Panel Discussion are planned. English is strongly encouraged in all symposiums, and all sessions are prepared in consideration so that participants from abroad can carry out their presentations smoothly. Also planned to be held is the joint program with ASH, Scientific Exchange Training Program (SETP), which accomplishes a great success every year. The annual meeting will give an excellent opportunity for an exchange of ideas both within Japan and with the world.
The program planning committee, JSH secretariat, and the executive office will strive for a highly academic and fruitful annual meeting that meets the expectations of all who participate. We look forward to meeting all of you.